Transportation
Build it here. Get it there faster.
It's a fast-moving world, and thanks to Borger's global industry, it's moving faster. Here at the world's largest inland petrochemical complex, Phillips 66 processes crude oil and natural gas that keeps the world running. Around the globe automakers are racing toward a greener future by reducing automobile weight and increasing fuel efficiency with Ryton® PPS next-gen polymer, made by Solvay Global Business Unit. Rubber tires run longer and stronger made with the rubber-grade carbon black produced by Tokai Carbon CB, and even the world's plants grow more vigorously with the sector-leading quality of nitrogen fertilizer made by Nutrien.
These global operations require global speed, and Borger delivers with a central location that positions them for effective reach and with superior multi-modal logistical assets that ensure swift and highly cost-effective transport and shipping. Borger's world-leading industry can't afford less than the best—why should you? In Borger, your options include:
Highway: Reach major freight centers across the U.S with ease through superb long line trucking service in a location where immediate state highway access puts I-40—the nation's premier east-west artery—just 30 miles away. That means rapid reach to major markets across the U.S. as well as interchanges with nearly a dozen other interstate routes.
Rail: In a rail-rich community, excellent Class II short line service by Panhandle Northern Railroad, a division of OmniTRAX, provides a fast connection to Burlington Northern Santa Fe (BNSF) Class I line, just 22 miles away. With BNSF, your transport network rolls out blanket coverage of domestic markets as well as strategic connections to deep water global ports.
Air: At the Hutchinson County Airport, a surprisingly welcome combination awaits air travelers. The airport's fuel costs are among the lowest in the nation, yet there's nothing skimpy about the new, sleekly attractive and state-of-the-art facilities including a lighted 6,300-ft. runway. And while the county airport is a comfortable option for executive travel and general aviation, just over 40 miles away the Rick Husband Amarillo International Airport offers service from four major carriers including American Airlines, Southwest Airlines, and United.
Get where you need to be, faster and with more cost-effectiveness, when you build it in Borger.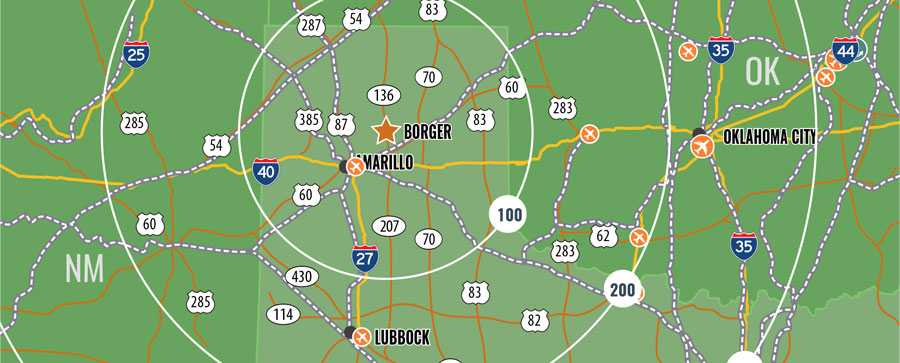 ADD ITEM TO REPORT
As you navigate our website, you can use the "Add Page to Report" button to add any page or property to a custom report that you can print out or save.